This one is from my SIL. Her daughter is a fan of this tomato cheese pulav. I got the recipe from her and prepared this for our lunch. Its a one pot meal, so gets done in a jiffy.
Ingredients
Raw Rice - 2 cups
Tomato - 2
Onion - 1
Garlic - 2 or 3
Garam Masala - 1 tsp
Chili Powder - 2 tsp
Sugar - 1/2 tsp
Mint Leaves - a little
Cheese to garnish
Salt to taste
Oil for cooking
Method
Boil and peel tomatoes. Mix it with enough water to cook the rice and whisk it.
Heat oil in a pan and add onions, garlic and saute till its crisp.
Add garam masala, chili powder, salt, sugar, rice and mix well.
Add tomato juice and some more water if necessary and pressure cook.
Once cooked and pressure subsides, add grated cheese and fresh mint leaves, and close the lid.
Garnish with fried onion and serve hot with onion raitha.
Im sending this recipe to My Culinary Creations's
Rice recipes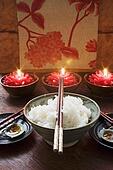 Bon Appetit!!
Rudra