I was thinking of sitting out on this month's
Crazy Cooking Challenge
. But when I started out googling for fudge recipes, I found this one @
Feeling Food
. Simple and sweet!!! It was love at first sight. I decided to make this one for my hubby....He's a bit down with cold and some office tensions, may be this should cheer him up!!
Ingredients
White Chocolate - 100 gms
Condensed Milk - 100 gms
Vanilla Extract - 2 drops
Dried Cranberries - 20 gms
Method
Line a mould or tin with baking paper.
Melt the chocolate and mix in condensed milk till silky smooth.
Add vanilla essence and pour the mix into the moulds.
Sprinkle cranberries, cover and cool for 3-4 hours.
Serve with lots of love!!!
Im sending this one to Crazy Cooking Challenge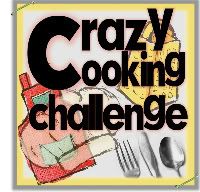 If you like this recipe please click on the Like button on
#80 White Chocolate and Cranberry Fudge
.
Bon Appetit!!
Rudra